Road trips
Karelian Bear Dogs enjoy staying close to their owners and make excellent travel companions. Below, it is a treat to travel with California Karelians' Grammy. Here, puppy Star and adult Laska (look closely in the upper left) pile into the car.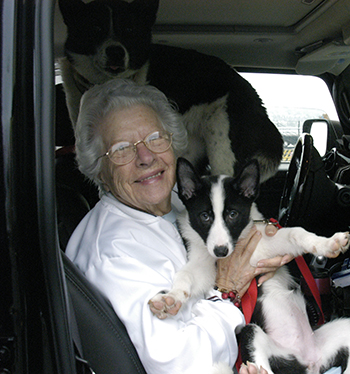 Safeguarding your traveling Bear Dog is not so different from how you would safeguard a child. Instead of a car seat, we recommend a plastic kennel in case of suddent stops. If temperatures permit, your Karelian can be left unattended to guard the car; if your dog has not outgrown the chewing stage, just be sure you protect anything you don't want the dog to gnaw. Below, Laska is protecting the Hummer awaiting our return. It is difficult to see in the photo, but we do have Laska on a leash. We recommend a metal chain if your dog is young enough to still chew things.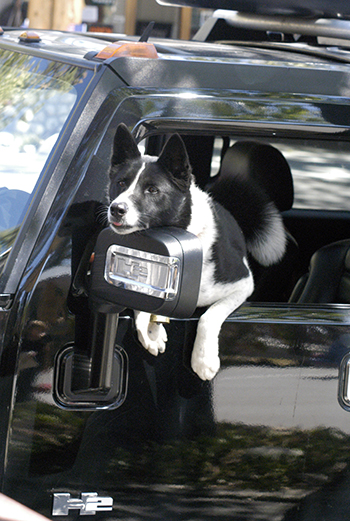 Whether you are planning a two-week vacation, a weekend in the mountains, or just a quick one-day adventure, have you considered what will happen if a natural or man-made incident, such as an earthquake, snowstorm, flood or road closure, prevents you from getting home as scheduled? We usually can take care of ourselves, but what about our furry friend in the back seat? We recommend that you always carry in your car a food bowl, water bowl, and at least two gallons of water from your home water source. I have found that some dogs will not drink water to which they are unaccustomed. Carry enough of the dog's regulary food to last several more days than you plan to be gone, and don't forget to bring utensils to open the cans and mix the food.
Special tips for puppies
If you anticipate traveling with a puppy who hasn't much experience with traveling, it is very helpful to prepare your puppy for the feel of a car ride. Load a comfortably sized plastic carrier in your car and drive the puppy short distances at first, such as around the block. Gradually increase the duration and practice stopping for a potty break.
Once you are traveling, it is far better to let the puppy "have an accident" in the carrier than stop in an unsafe place to walk the puppy (like the side of a freeway). Do NOT scold the puppy for doing what was necessary, and do NOT make the clean up a traumatic event. "Hosing the puppy down" will seriously scare a puppy and not promote bonding and trust between you and your puppy. Use a few wet cloths if the faucet on your sink isn't flexible enough, and BE GENTLE as you talk nicely to the puppy. Accident clean up will be easier if you do not make it unpleasant for the puppy.
Dog gear
Want your dog to be as prepared as you are for outdoor activities?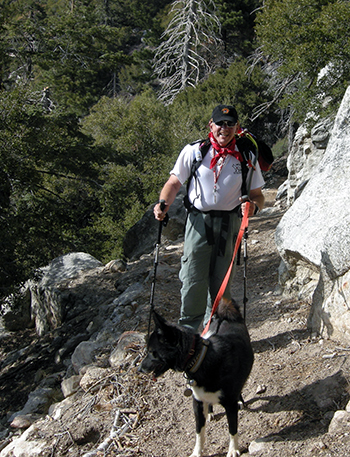 There is lots of fun dog gear available so that your Karelian can participate in almost any outdoor activity. Check out Ruffwear for travel dog beds (we like the Mt. Bachelor dog bed) and food bowls. For the more ambitious humans, you'll also find boots, packs and life jackets for your Karelian. REI is another popular source for dog gear.
Our preference for dog collars are Reflective Big Wolf collars from Pet EKcessories, although we find their matching leash to be too light weight.
First aid preparedness
Check with your veterinarian for the proper eyewash and eardrops, which usually come in squeeze bottles. I recommend that you have one bottle of each with you. While speaking with your vet, please insure your dog is current on all vaccinations before leaving home.
If your travels include hiking in the mountains or woods with your dog, I recommend that you add an astringent cleaner and rolls of gauze and Vetrap bandaging tape to handle minor cuts or wounds. The Vetrap can be purchased at most pet or feed stores. When using Vetrap, be careful not to wrap so tightly as to impair circulation. Your vet can demonstrate the proper method of wrapping.