Training Adviser for California Karelians
Bill Bates has been associated with the dog world since he was old enough to walk. His parents raised Cocker Spaniels for show, and Bill spent many weekends at various dog shows in the Chicago area. As he got big enough to hold on to the end of a leash, he used to exercise dogs for owners at these shows.
As a young adult, Bill purchased his first dog, a Labrador Retriever. Realizing the dog needed training, he enrolled in a local obedience class. This experience opened a whole new world for him. Bill became an assistant to the instructor, helping him with problem dogs in class. He even filled in for the instructor from time to time.
Eventually Bill opened his own training facility, providing class, semi-private, and private training in the three levels of obedience recognized by the American Kennel Club, Companion Dog, Companion Dog Excellent and Utility. He also had a limited kennel facility where he would board and train dogs in obedience and field for their owners. He began breeding Labrador Retrievers, taking his dogs to their obedience degrees as well as their bench championships. Bill devoted many weekends judging obedience classes for various club matches in the San Diego and Los Angeles areas. Bill then started training his Labradors in field work, and their success led to him to expand his training to include field work for Retrievers, Pointers and flushing Spaniels.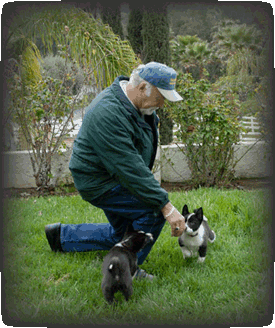 Bill brings over 20 years of experience training roughly 50 different breeds of dogs in obedience and/or field work. Currently he is training exclusively with California Karelians.