In addition to being discerning about the people we consider for puppy adoptions, we at California Karelians invest our time and resources to help any Karelian or Karelian owner in need of assistance -- from providing training assistance or answering questions about installing an invisible fence to finding a new home for a Karelian that finds itself without a home.

Kasey's Story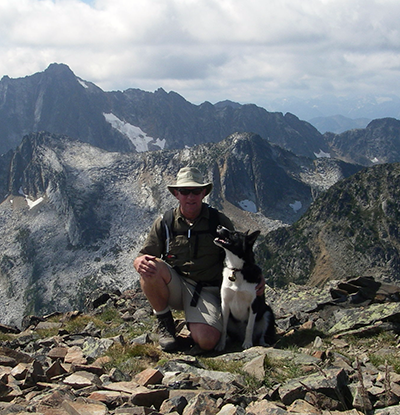 Kacey's dad sought our help with his new Karelian puppy...
Thank you very much for all the help and advice you have given me over the last several months. I especially appreciate how quickly you always responded to e-mail and our telephone conversations. Being able to speak with someone as knowledgeable as you about Karelian Bear Dogs really helped me make the decision that this is the right breed for me. Your assistance in putting my KBD puppy Kasey and I together is something I will always be thankful for; we are now into week 4 of our partnership and everyday is an adventure.
Your tips and recommendations on raising and training Kasey are really paying off; each day I can see improvement and changes in our teamwork. Your website has also proven to be a great source for information, I have found the pet safety related articles especially interesting. ... Thanks again. Yours Truly, Roger, British Columbia, Canada

Katy's Story
California Karelians was called after Katy had already been in a few different homes. Her new family lives in Colorado.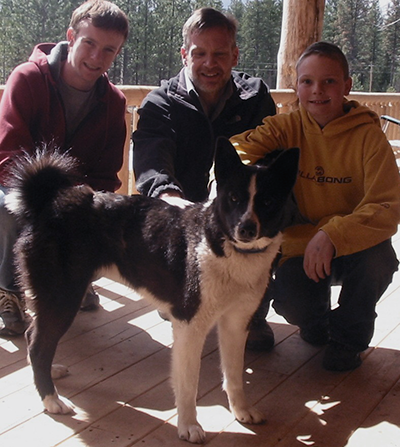 Katy's new dad wrote...
Katy is the most amazing dog I have ever met! She has proven herself to be a skilled fisherman. Boulder Creek flows through the front yard of my new home. Every time the boys and/or I go fishing, Katy joins us. Too date, she consistently has caught the first, most and biggest! She loves to stand near the shore, or on a rock, and nab a brown trout from the stream. She then will either eat the fish while laying on the shore or bring it back to the house where she stashes it in the yard for later enjoyment. I have also seen her eating apples, cherries and chokecherries right off of the trees. I also suspect that she has killed at least one wild turkey in my backyard. As you may expect, Katy has gained a few pounds since I got her! In fact, she is looking very fit these days.
Katy has also impressed me with her social skills. I bring her to my office at least 3 days a week, which she seems to really enjoy. She spends her days "guarding" my office, greeting visitors and reminding me to get out of my chair and go for walks with her (which is very healthy for me as my MS has been problematic these past few months). While walking, she has never shown aggression for any other dog/person, however, she has learned where every squirrel lives within a 20 block radius of my office and at times almost pulls me off of my feet to chase after them. J Which leads to a question I have for you…is it common for a Karelian to climb trees? Several times I have had to stand below a tree and endure strange looks from people passing by who are befuddled by the leash extending from my hand upward into the tree canopy…I have gained great respect for the intelligence of this breed, ... Sincerely, Jube, Boulder, Colorado
Then, we received this update...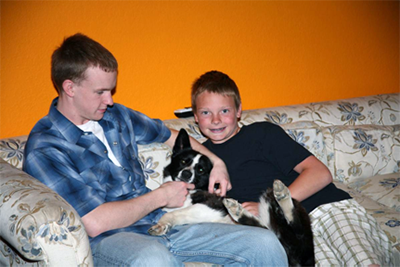 Katy has bonded quite well with me as well as both boys and appears to be adapting marvelously to all of the changes in her life. I take her for at least two walks during the day, during which she walks very well while on her leash (no pulling/tugging) as well as has not shown any significant aggression to other dogs/people, although there is a squirrel living in a tree in the alley that she would love to chase, she willingly leaves it when instructed and joyfully follows me back inside.
At home, my boys and I finished installing her invisible fence last Wednesday, after which Katy quickly learned/adjusted to living/playing within her area…she has also taken a liking to "inside living" where she especially enjoys laying in my bedroom…on my bed! Which for the time being is just fine with me as this is one of the few places in my home she can easily look out a window, which seems to assist her in feeling comfortable in her new environment. In fact, during the first night in my house she jumped up on my bed and cuddled next to me with her back to my stomach where she slept with her nose under my chin for several hours…I know I am probably spoiling her, but I also sense she needed to bond with us as well as can see she is already becoming more secure and less "clingy."
Along the same lines, I knew she was going to bond with my boys the very first night we spent in a hotel on our return trip to Boulder when I the middle of the night she hopped up on their hotel bed and crawled in between the two of them…where she then stretched out and slept between them for several hours!
Katy did not whine/whimper during the entire 3 day return trip home nor has she given any indication that she is not enjoying her new "family." It almost seems that she sensed from the time we pulled into the driveway of her old home that we were her new family and that we were there to adopt her and bring her home with us.
Bill, I again would like to express my sincere appreciation for all of your assistance in this matter. I do not know how I can ever thank/repay you for trusting me enough to adopt Katy, other than to take damn good care of her, which I promise I will always do to the best of my abilities… Sincerely, Jube

Sage's Story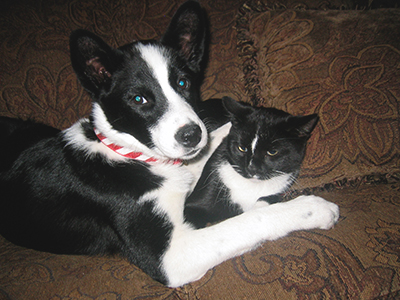 Sage was sold by a breeder in Gardnerville, Nevada to a family (husband, wife, 6-year-old son and kitty cat) living on four acres in the same town. After a year, the family realized that they did not have sufficient time or dog handling skills. The family was also unwilling to install fencing that would prevent Sage from escaping. After numerous (unsuccessful) attempts to get help from the breeder, they called California Karelians.
Sage's new home is now in a rural part of California with "parents" who own horses and Border Collies and are willing to devote time to Sage. Their handling experience includes training Border Collies and Labradors. They upgraded their invisible fence to avoid any mischievious escapes.
Sage's first act upon meeting her new dad was to jump up and give him several big kisses!
"Just wanted to drop you a line about our progress so far with Sage. She is adapting well to our schedules and family life. She no longer sits at the front door but lounges leisurely wherever she happens to find herself standing. She is back on a good diet and water intake has been good. Her evening walks are going well and she is learning to heel nicely. She is rather aloof at times but no more so than some other dogs we have had. She follows us around the house as we do our evening routine with the occasional kiss and play time thrown in. She gets along well with the Borders and seems to have quickly found her place in the pack. Her play time with our 2 year old Border is fast paced and rough but she respects and give space to the 14 year old, never offering to nip or heel her as she does the young dog. She has had some surprises for us. She does sit on command very cleanly and in good form. Didn't expect that. We have two Russian tortoises that she is scared to death of at this point but seems to be getting over that as well. Really didn't expect that. Kind of funny actually. We are extraordinary pleased with Sage. She is everything that you billed her as and more. We will stay in touch, with pictures to come. I will also be working on the referral for you. Thanks a bunch," Jay & Vona, Coalinga, California

Isis's Story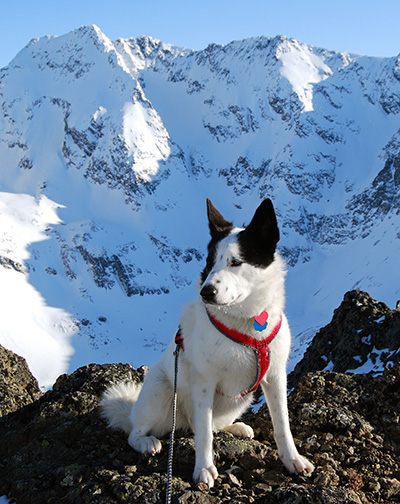 Isis is now with her new family. Isis was originally sold to a gentleman in British Columbia, who died in a traffic accident with the dog in the truck. Isis was reunited with the original breeder, who resold her to a person in Missouri. A good Samaritan found the dog in Ohio, after apparently being abandoned or detached from her home. After being contacted by this good Samaritan, California Karelians identified an excellent family to adopt her and through flight delays because of weather, our good Samaritan and California Karelians managed to get Isis first to Montana and then onto Alaska to be with her new family.
Isis' new family maintains an active outdoor life. The dad is an officer of Alaska mountain rescue, and an experienced back country traveler. Two twin girls and mom round out this family, along with their new 9-year-old Karelian.
Our congratulations to Isis' rescuer and to the adopting family for giving this special KBD a home for life.

Anya's Story
Anya's family was finding it challenging to effectively channel Anya's energy until her mom, Susan, received some personalized training within an organized dog obedience setting from California Karelians.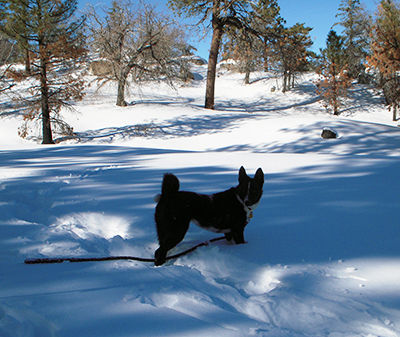 "Thank you so very much for allowing me to bring our 7 month old KBD Anya to visit your training class. I appreciate all of your advice and direction on the training needed specifically for KBDs. We have started working on down-stay and giving a command only once. It was impressive to see your amazing KBDs and the level of training that they have mastered. I am committed to additional training for Anya and myself. Anya loves a challenge and enjoys learning new things. It is very important to us that Anya is a very well trained dog, and I feel that your years of experience with KBDs is key in helping us achieve this goal. Thank you. ... I now realize the importance of training specific to KBD dogs, which is essential. Thank you for allowing us to start that training process." Susan B. and Anya
Ahti's Story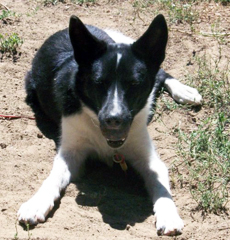 We are pleased to say that Ahti now has a home in Idaho.
"Thanks for taking the initiative in contacting me and my wife when we began our search for a good home for Ahti. Without your help he would have ended up in the pound where he probably would not have found an acceptable home. If it wasn't for California Karelians, and the network that has built up around it, Ahti would be having a very tough time of it right now. As it is he is having a blast with all the space and exercise and attention he could possibly want. Thanks again." Troy

Skyler's Story
Skyler is now in Michigan bear country.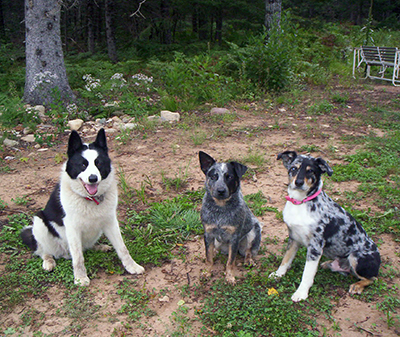 "You will see the attached picture of Skylor overlooking his new domain with his new sister and friend (Calder Rain). I would like to take this opportunity to thank you Bill for doing an excellent job of informing me on the breed, coming up with a spectacular dog and aiding Sandy in the transport of Skylor to his new home. And Sandy, thank you so much for all you have done, and thanks to [Drs.] Foster and Smith as well. The drive from Milwaukee to Skylor's new home in the Upper Peninsula (UP) of Michigan was great fun!!! Also, I wanted you to know that Skylor has been jogging with me daily and building up endurance very quickly. We did 4 miles today, and he was ready for more. ... I do stop about 3 or more times for Skylor to take a dip and drink in the nice cold river. He is loving the great outdoors and the wilds of the UP. Thanks again to California Karelians. Sincerely, Bruce"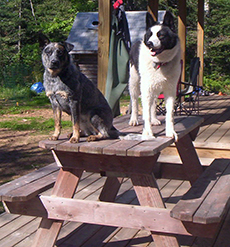 California Karelians extends a thank you to Janet for referring Skyler to us.
"Wow, Bill, what great news indeed. I am over-the-top delighted to know that the Karelian was safely rescued from the Everett Washington shelter, where I am sure he would never have been adopted by local people (most of whom are not qualified to own a toy poodle, let alone a Karelian). You guys did good work getting the rescue ball rolling so promptly and communicating with the shelter staff as quickly as possible. In spite of being a rare breed, this is not the first Karelian Bear Dog that I have been instrumental in saving from the Everett Animal Shelter. Although the shelter staff are great people and prefer to move any qualified dog into a rescue group, they often have no other alternative but to put dogs down simply because of lack of space.

Again, let me thank you for responding to me and following up on the Karelian from the Everett Shelter, and for rescuing the nice dog. I am thrilled." Janet L. in Seattle, Border Collie Rescuer