Karelian Bear Dogs are a special part of our lives, and it is our desire to contribute in a small way to preserving this special breed of dog. Below, 7-month-old California Karelians Mishka is enjoying some outdoor play time.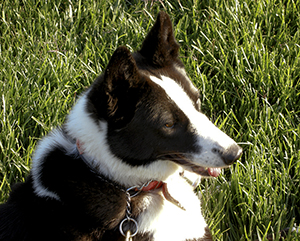 Studying the homeland of the Karelian Bear Dog and learning how their ancestors lived has given us a deeper appreciation for how important these dogs were to man's very survival. We at California Karelians have taken on the challenge of exploring ways we can put the natural abilities and instincts of this remarkable breed to work today. In an ongoing process of discovery, observing our dogs' behaviors leads us to learn from them and they from us. We share what we have learned with others, in the hopes that you, too, may come to enjoy this breed as much as we do.
By certifying our dogs as AKC Canine Good Citizens, we demonstrate the Karelian Bear Dogs' capacity to be good citizens in a world much different that that of their ancestors. By participating in a variety of outdoor activities with our dogs, we show them to be capable working partners. We willingly share what we know about ensuring the outdoor safety of the Karelian Bear Dog and providing effective obedience training for the Karelian Bear Dog so that we all may enjoy these wonderful dogs for years to come.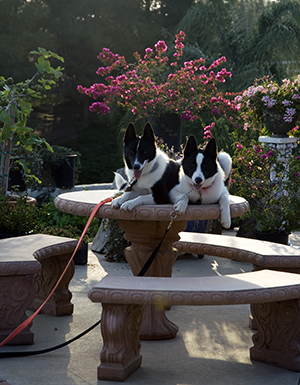 Before our customers select a Karelian Bear Dog puppy, we strive to accurately understand our customers' expectations, assess the available time they have to train, and evaluate the adequacy of their living conditions. We also participate in Karelian Bear Dog rescue.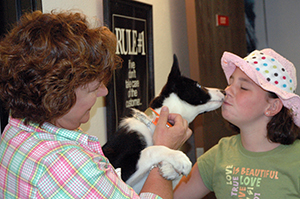 We have placed our puppies and young adults in homes where they will be participating in outdoor recreation such as hiking, camping and fishing.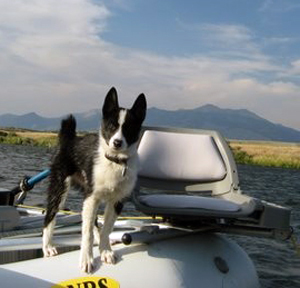 We ourselves are enjoying dog agility and search and rescue with our Karelians. Our dogs are also providing wilderness large predator protection. We have even donated puppies for use as protection dogs in bear country.
One of our primary goals remains to educate and share our enjoyment of the breed. Our dogs have even been featured in news articles and participated in the filming of "Faithful Friends", a 13-episode series currently airing on the DISCOVERY CHANNEL.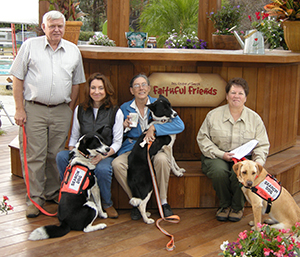 Here is what an instructor at the UC Davis Veterinary School had to say after speaking with California Karelians:
"I just want to thank you again for your time and effort in answering my many questions about Karelian Bear Dogs. It is very apparent, from your website and from our conversation, that you have an incredible devotion to the breed and to its fanciers as well. How refreshing it is to speak with someone who is truly dedicated to the dogs both individually and as a breed. Obviously, you folks at California Karelians have really invested a tremendous amount of time and energy in training your dogs and assuring that their quality of life is of the highest order. I am truly impressed by the fact that you require an equal dedication from those who purchase a dog from you. Because of your knowledge and patience, I enjoyed our phone conversation a great deal. You demonstrate that a legitimate dog breeder is not at all concerned with monetary profit but is committed to the betterment of each individual dog and to the positive promotion of the breed. It appears to me that Karelian Bbear Dogs are more of a life style than a hobby to you. Kudos for your contribution to the Karelian Bear Dog and for the effort you make in educating curious neophytes like me. Thank you, Bret S."
Occasionally our candid conversation with a potential new owner points them to a breed of dog other than a Karelian Bear Dog:
"Thank you for all the helpful information we discussed last Thursday night while driving in comute traffic. I spoke with my daughter and gave her your recommendation. She appreciated your honesty and knowledge of the breed. It is her wish to start from the beginning, as so to speak, with a puppy. She is prepared to take on the necessary tasks in doing so and has decided that the Karelian is probably not the best fit for her and the family. I want to thank you again and wish you continued success with this amazing breed of animal. Sincerely, Janet Shattuck, Rocklin, California."