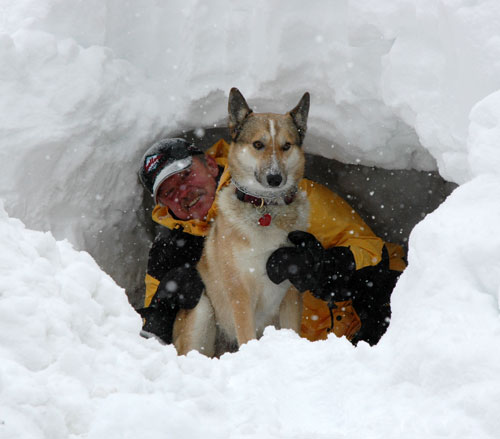 Picture the frozen forests of an unknown land inhabited by tribes of people living in physical isolation. These are polar deserts, void of domesticated life. Visualize an aboriginal world, where people lived like their wolf pack neighbors, struggling against the elements on the Siberian taiga. It's an existence predicated on trade, war and movement. It's a very old way of life fraught with danger, and nomadic excursions into the icy wastelands.
Conjure in your mind a primitive dog, with unrestricted freedom, free from the modern conventions of breeding and man's expectations. Imagine an animal highly valued for its keen sense of smell, swiftness in motion, agility, silence in hunting, primeval appearance, independence, intelligence and acute sense of survival. This is a tribal member valued as a means to large predator protection. This is a wolf-like creature of gray, red, black and white and tan, with a curled tail and a sharp eye for detail.
Envision a dog so intelligent it won't sacrifice itself at a master's poorly thought-out command, but will endure months without being fed to remain in nearby forests-waiting for its master's return-so it can hunt once more. A dog capable of thinking for itself, smart enough to track a bear and keep it treed or guard reindeer herds miles away-ever watchful and unattended for days on end.
Now, you have the beginnings of an understanding about the origins and characteristics of the uncommon and very rare breed called the Karelian Bear Dog. An animal with roots back 15,000 years ago in Asia, when the domestication of the wolf happened. This is a very old breed of dog indeed, and one look at the face of these exquisite canines takes one back to the days of dingoes and Basenji-like dogs roaming the plains of Africa or the spitz-like Eskimo and Russian wild dogs, like the Karelians. These breeds, the oldest in the world, look "wild" by nature, with their rangy and lanky bodies, pricked ears, wedge-shaped heads, pointed muzzles and all-seeing, oblique-set eyes.
Mammoth is fortunate to have connections with this unusual dog and its ancient history, and in the near future the singular Karelian Bear Dogs might be the next likely candidates for avalanche and search and rescue work in the Sierra Nevada. While the bear dogs have long been known for their distinctive abilities to hunt, track and corner their wildlife targets-they haven't been given a chance to prove their innate sense of loyalty and perseverance. At least not yet, but all of that is about to change. Thanks to the able assistance and generosity of a small band of people, intent on teaching and showing us these dogs in action, the local communities from Tahoe to Temecula might have a new working dog in the neighborhood.
Hunting and herding for life
The rich and lush sable pelts were highly valued by the "yassak" peoples of the Siberian landscape. Hunting for "soft gold" (as the Alaskans and "yassak" called sable) was the pursuit of frontiersmen and Russian adventurers. The Laika, trotting and galloping on the fresh tracks of the sable were the perfect hunters for the elusive fur-bearing sable. The Laikas proved themselves, tracking their goals for miles across an inhospitable terrain. Working singly or in a well-suited pair, the Laikas check every "lunduk" (old-frozen track) and relentlessly pursue the sable to its den.
The hunting abilities of the Laikas are an inherited trait, and this isn't the result of field trial training or years of selected breeding. In the Zhigalovsky District of Irkutzk Province, 85 percent of sables are obtained with Laikas.
West Siberian Laikas are used extensively for herding reindeer and in this setting, dog and master communicate as equals-not on a "master to dog" level. There is a mutual understanding about the nature of the work and attachment, and the Laikas are trusted with thousands of reindeer on the tundra. These dogs remain at their posts with little if any human command or contact, and they will stand their ground against the largest of predators. They are fearless, truly a northern dog, and equal to the task set before them.
Karelian Bear Dog training is not so much a matter of memorization of an exercise (retrievers retrieving or border collies shepherding) or the tendency to repeat patterns after positive reinforcement techniques. These dogs understand habitat and animals, and have the courage to face predators. They are also agile enough to avoid the swipe of a grizzly bear's lethal paws or the jagged edges of the wolf's carnivorous fangs. The dog knows to hunt only for the master, not for itself. Teamwork comes rather innately with Karelian Bear Dogs, when the team is comprised of an animal and human. However, Karelians are brave and primitive, designed by survival, so they are perfectly able to hunt silently, singly, and communicate with their master noiselessly.
When it comes to search and rescue or avalanche work, the Karelians have a history in Austria and other Siberian regions of the world that spans decades. It is only in the more contemporary times that others in the dog world have come to discover their function in this capacity. Long-time Sierra visitors from Southern California, Bill Fantozzi and Bill Bates hope that the Karelian Bear Dogs can now give the people of the heavy snow regions of the Sierra a small demonstration of their incredible characteristics.
While the Karelians might not be a household word associated with avalanche work, at least one member of their breed, Grizzly, shows great promise-after just one brief session in the snow at Mammoth. Fantozzi climbed into a snow cave recently to show that it doesn't matter what the task might be-Karelians intelligently assess the situation and use their wild and primitive instincts. It took Grizzly only moments to track, find, dig and climb inside the snow cave (which dogs don't like to do) for Fantozzi, and this feat was accomplished with zero training time.
Just one quick study for Grizzly and true proof that "this dog will hunt."
Two Bills and a gazillion dogs, give or take a few
Bates and Fantozzi haven't known each other long, and yet to speak with them, you'd think they'd been working with dogs and each other forever. There is an easy way about them. However, they are passionate about their work and the Karelian Bear Dogs. Each interview revealed more and more about their enthusiasm about primitive aboriginal dogs and their willingness to champion the breed.
The colleagues are their own best cheering section for a breed that has but a mere 2,000 representatives in familiar territories. Spread out over Alaska, Canada and Washington, only a small population of fewer than 300 dogs and a handful of breeders exist in the states.
The two "Bills" would like to share this thrilling primitive working dog's abilities with others, including people interested in finding new applications for an ancient breed. But this isn't a mass media approach, they caution. Neither man wants acknowledgements for this effort for that matter-they just want to share their unique dogs with individuals and communities in need of more four-legged "flyers," trained to find whatever they are naturally inclined to track, locate and understand.
Bill and Bill met at a snakebite clinic in June of last year, where Bates was working as a dog handler. Bates has raised and trained every sort of dog over the past two-decades plus, and he and Fantozzi exchanged business cards at the clinic in Southern California.
Bates has successfully raised and trained Labradors for years and is a carded judge for many Southland events. However, he is a true dog spokesman and knows the intricacies of most major dog breeds. He also divides his time raising and training the elegant gaited horses called Foxtrotters.
Time elapsed; both Bills went about their business. Fantozzi became immersed in the ancient breeds from the forest zone of the Republic of Karelia. He turned his attention to the medium-sized member of the spitz family of dogs-the Karelian Bear Dog and the Russo-European Laika. According to Fantozzi's Web site (www.Karelianbeardog.us), "Aboriginal dogs of similar type originally were distributed over vast areas in the forest zone of North East Europe, from Finland eastward including Karelia and North East provinces of the European part of Russia (Saint Petersburg, Archangelsk, Vyatka and Perm Province) and southward as far as Udmurtia. Finns selected predominately black with some white marking dogs and named it the Karelian Bear Dog. At first, Russians bred all original colors, mainly wolf gray, red and even black and tan dogs. Then, after WWII they switched to black and white ending with a sibling breed, which they named the Russo-European Laika. Both the KBD and REL came from the same large aboriginal gene pool of hunting dogs and this is the reason why they are so similar. Russians used dogs from Karelian, Archangelsk Prov, Ladoga Lake region and Udmurtia."
As Russia moved into the 1940s, denouncing the old regimes' heritage meant the elimination of ties with old ways of life. "54,000 icons were destroyed," Fantozzi related. The Karelian Bear Dogs, on the verge of extinction, "were brought back to life."
Nowadays, Karelian Bear Dogs stand a better chance of hunting and herding on the tundra than snowmobiles and humans.
An avid outdoorsman and traveler, Fantozzi was fascinated by the abilities of the Karelian Bear Dogs and he started the complicated process of bringing them into the states. Today, his house is a menagerie of California Maine Coon cats, border collies and lots of Karelian Bear Dogs, including Grizzly, Laska and new puppies. He formed California Karelian Dogs and went to work gaining a larger understanding of this rare breed, decidingto share his enthusiasm and knowledge with friends and associates in Mammoth.
Fantozzi shared these two well-suited companions with Mammoth Times photographer Susan Morning, Mammoth Lakes Police Department's Chief, Mike Donnelly and Sergeant Paul Dostie (and his avalanche, search and rescue and cadaver dog Buster), and Footloose's supportive business owners, Corty and Mary Lawrence.
Fantozzi said the enthusiasm shown by community members and the crew at Footloose has made this small project very worthwhile, and he and Bates look forward to returning to the area with a dog for the community's benefit. "Corty is very supportive of the program and enthusiastically supports customers, skiers, the community and mountain safety," Fantozzi noted. Everyone is in agreement that another set of well-tuned eyes, ears and nose for mountain rescue can only be a win-win situation.
Both Bills want the opportunity of helping provide a unique dog and the training to the community and also offer their personal support in whatever it takes to make this happen for the region. They are already providing two Karelian Bear Dog puppies to the Tahoe area for work with a local bear expert, and they hope that more of their unique working dogs will find meaningful and productive homes near Mammoth.
Keep your eyes open for the dogs that local people in the tundra of Russia say, "God gave them to us" or "They came from the skies."