Search and rescue (SAR) professionals who are back country specialists have characterized the Karelian as particularly suitable for backcountry work, where rescuers themselves may need protection from native bear and cougar populations. The Karelian enjoys it too!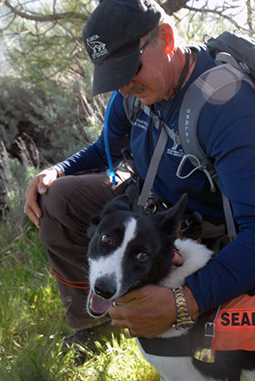 The Karelian Bear Dog has a very keen sense of smell and a very good sense of direction. We are showing that the Karelians' drive to search for game within a wide area in difficult terrains and all types of weather conditions can be harnessed for search and rescue work in both urban and mountainous environments.
Below, California Karelians Blackie successfully followed the trail of a simulated unconscious victim, receiving no stimulus from handler or victim to guide him or draw him into the victim. In addition to the scent of the victim's trail, the culvert produces its own scents, making the approach even more challenging.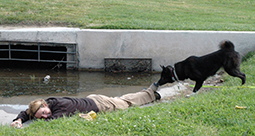 Below, Blackie is, first, negotiating a steep concrete embankment and, secondly, turning into a 3-foot high, 20-foot long concrete culvert during more urban trailing exercises.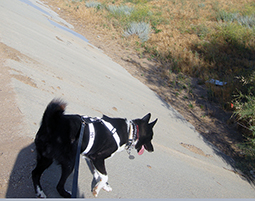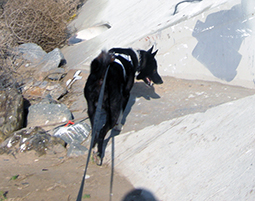 Below, California Karelian's Star is being rewarded for finding "the victim" during an area search exercise. Star used her senses of smell (ground and air scents) and sight (seeing the victim run and hide) to locate the victim hiding at this concrete recycling plant, which served as an "urban environment" for the exercise.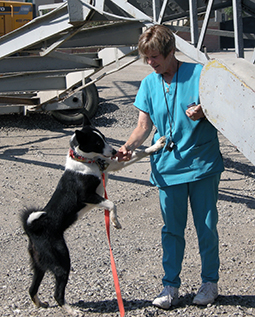 Below, command of your dog is very important in SAR training. Not only can training locations present hazards for the dog--such as nearby road traffic--in this particular location, we also came across a 6-foot rattle snake in our path.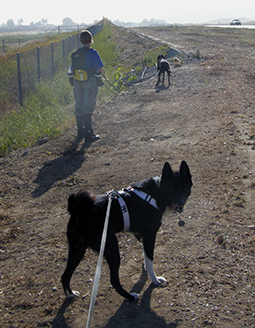 A substantial commitment
Search and rescue training requires a substantial time commitment before you qualify as mission ready. Classroom instruction, and field practice and testing are requjired.
One of the requirements for many teams is completion of an emergency preparedness course, such as the 46-hour Emergency Response class offered by the American Red Cross, encompassing CPR, first aid, bloodborne pathogens, oxygen administration and injury prevention. Below, course instructor Marty had two extra pupils from California Karelians join the class, Laska and Grizzly.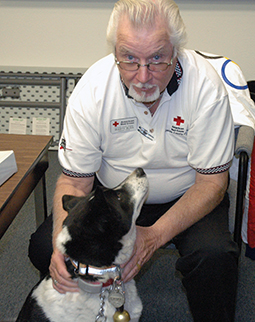 While search and rescue (SAR) training is a serious commitment, some of the training techniques can be used by Karelian owners to expand their enjoyment of their dogs. The earliest foundation skills include encouraging play drive and performing run away training exercises. Other "mission ready" skills include obedience, agility, swimming, sociability and night search.