Recongizing and alerting to "evidence," such as a pair of sun glasses, cigarette, pen, clothing, hat, personal equipment, or wallet (as opposed to searching for a hidden human "victim") enables a search dog who is already certified as a "mission ready" trailing or area dog to achieve proficiency necessary for a more advanced "evidence signoff." A search team can more effectively locate lost people by identifying discarded objects found along the trail that provide clues as to the direction a victim traveled.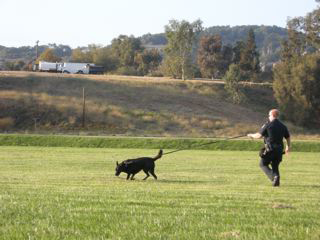 Joint training exercises with police enables all the search handlers to vary their training exercises and expose the dogs to new air scenting "problems."
Right, after the Escondido police set up an exerise in one of our local training areas, California Karelian's Star performed the same exercise, successfully finding the scent pool left behind by the police officers' evidence article.
Joint training enables all the handlers to expand their access to training sites and exchange ideas on setting up relevant training exercises.