As we at California Karelians have conversations with folks from all over the country who are curious about the Karelian Bear Dog breed, We continue to be surprised by some of the strange presumptions that exist. It is understandable that not many people have had the opportunity to get to know this breed well. Yet much of what we hear represented as "truths" clearly don't make sense once you understand dog psychology, regardless of the breed being discussed.
Can Karelians be trusted with children and other family pets?
We have never known any of our dogs, at any age, to be other than curious and playful with children. Before we had Karelians, I was breeding Maine Coon cats, and our Karelians are gentle with the smallest of kittens. It appears to me that the Karelians instinctively know that children and family pets are part of the family, not threats against which they need to protect.
Are all Karelians equally suited as companion dogs? Or hunting dogs?
Of course not, just as not all Labrador Retrievers possess the same working aptitude. (Just as not all people are equally inclined for all careers.) Our job as breeders is to gain an understanding of why prospective owners are considering a Karelian. We then select the puppy or adult dog best suited to match their lifestyle and activities.
Are Karelians difficult to train?
Karelians are intelligent and known for their ability to think through a problem. They were meant to be a dog that is faced with regular challenges, so teaching a Karelian basic and intermediate obedience actually provides them with mental challenges and helps keep them safe. If you are a novice handler, you will want regular access to a good dog obedience instructor as a mentor. However, I have never trained a dog before I learned to train a Karelian, but with Bill's more experienced guidance (that's him in the middle, top right), I can now proudly show off my dog handling skills.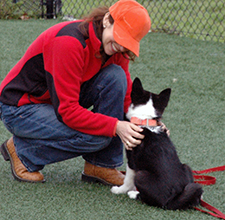 We have successfully placed Karelians with many active people who now tell us they can't imagine their lives without their Karelian.
Where can I get more information on training my Karelian?
Beyond the basic information on this website, if you would like to contact us, we will gladly discuss share our knowledge and experiences.