Our puppies remain with their mother until ten weeks of age. Selecting a Karelian Bear Dog for your family should be done with careful consideration of several factors, including the amount of space you have available, the amount of time you plan to spend with your dog, the degree of dog handling skills you possess, and the ways you intend to use the dog's skills. At California Karelians, we carefully screen potential new owners in an effort to best match your expectations with each Karelians' observed behavioral traits and personality.
We have included on this website a few of the testimonials we have received from California Karelian Friends.
Our responsibilities
Throughout the first few weeks of life, the puppies' safety and comfort are our priority. In addition, frequent handling helps to create an early trust between dog and human.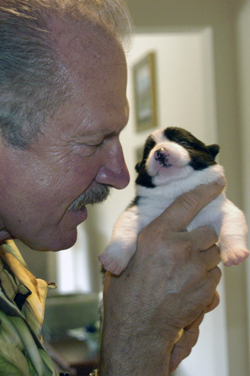 As the puppies get a little older, creating varied opportunities for puppies to gain confidence as they explore their world is an important part of our responsibility as breeders. These opportunities for play are created indoors and out, with and without toys, with humans and with other animals. Below, puppy meets our CaliMaine Maine Coon cats.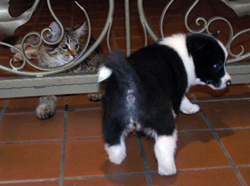 Much more is available about our California Karelians kennel and our training principles.